Logo by @PessimisticAsshole
Review:
At first impressions, I like that it's more simplified. Your take on the logo with the emblems of the kegawas representing the main characters seems clever. However, my problem with this logo is that it doesn't have that FLARE to it. Like Star's logo, she used a creative and more clever way to represent the style of the characters. But this doesn't capture the same feeling as star's logo. Testing this in Alpaca already raises problems. First off, it's a JPEG. It doesn't have the same functions as a PNG in transparency. Plus, the quality is low and will suffer more if i even dare to enlarge it.
Score: 7.4/10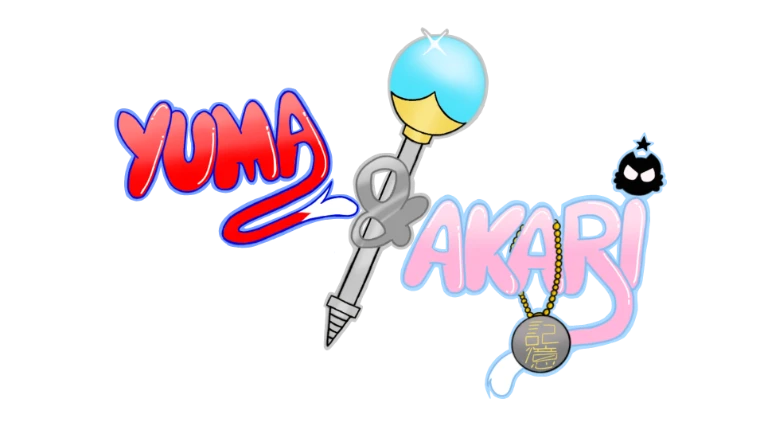 Logo by @FuntimeFandom45
Review
Now THIS! THIS I LOVE! It's a bit inspired by Star's logo, but what I LOVE about this is that you added certain elements ffrom the manga that wasn't included in the other logos. More specifically, the Lucky Charm that Akari wears all the time! And you managed to use the Kegawa Emblem as the 'I' in Akari's name. I also really love the tails on the 'A' and 'R' of both of their names! Now this didn't suffer the kind of quality as the other logos. And I somehow got it to work! Though the problem is that it's too big to be in the middle. though when I use this in the top left corner, I think it fits better!
Score: 9.6/10

Logo by @Asskick247
Review:
Now this interests me on an aesthetic level. The letters are bubblier and brighter like in some of logos for childhood cartoons. Plus, it fits on the cover like a glove! Though it is a good logo, it doesn't capture the same kind of magic like Funtime's. That had attention to detail in the manga like star's logo. This seems a little simplistic and too soft for Y&A, as opposed to the Bold and Colorful logos like Star's and Funtime's.
Score: 8.9/10
Remember, only ONE of you is winning.
Check out the first review
Y&A logo review 1 - by TuffArt (newgrounds.com)
More info here